Who says Albertans don't like to dress up? Whether they're in cowboy boots and jeans or stylish haute couture, shoppers in our province have been paying big bucks to satisfy their clothing desires.

In 2012, sales by clothing, footwear and accessories retailers totalled $4.03 billion, up 8.4 per cent from sales in 2011. December of last year alone set a monthly record with sales of $560 million.

The graph below shows monthly sales trends since 2004. The light orange line represents sales by month, unadjusted for seasonal variation. The strong peaks in December stand out—obviously much of Albertans' new attire finds its way under the Christmas tree. The heavier orange line is the 12-month trend, which gives a clearer visual picture of sales over the past several years. It has been a gradual but steady climb, notwithstanding the small dip in 2009 when recession gripped our province.

The two main drivers for the record-setting clothing sales last year? Demographics and high incomes. Since Alberta was the destination for so many newcomers last year, retail sales are bound to grow. The low average age of Albertans—and the fact that many Albertans are shopping for children—is also a factor.

The other driver is high incomes. With their strong economy and high average earnings, Albertans have been confident consumers. That means most of them haven't been too shy about shelling out major dollars for those new ski jackets. Or earrings. Or silk ties. Or...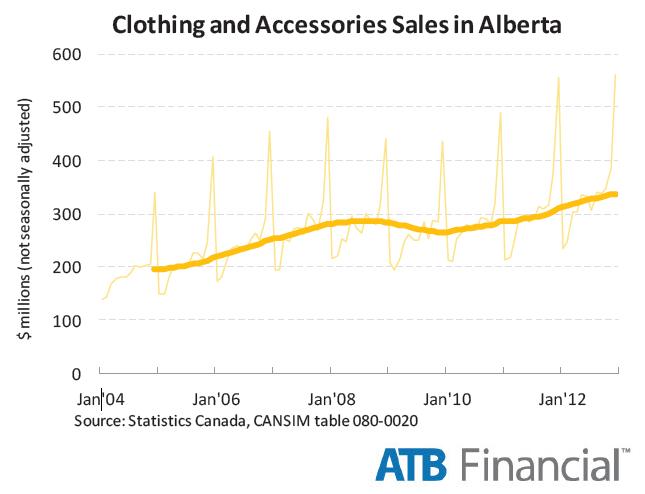 Source: ATB Financial
Who says Albertans don't like to dress up? Whether
they're in cowboy boots and jeans or stylish haute couture,
shoppers in our province have been paying big bucks to
satisfy their clothing desires.
In 2012, sales by clothing, footwear and accessories
retailers totalled $4.03 billion, up 8.4 per cent from sales in
2011. December of last year alone set a monthly record
with sales of $560 million.
The graph below shows monthly sales trends since 2004.
The light orange line represents sales by month,
unadjusted for seasonal variation. The strong peaks in
December stand out—obviously much of Albertans' new
attire finds its way under the Christmas tree. The heavier
orange line is the 12-month trend, which gives a clearer
visual picture of sales over the past several years. It has
been a gradual but steady climb, notwithstanding the
small dip in 2009 when recession gripped our
province.
The two main drivers for the record-setting clothing
sales last year? Demographics and high incomes.
Since Alberta was the destination for so many
newcomers last year, retail sales are bound to grow.
The low average age of Albertans—and the fact that
many Albertans are shopping for children—is also a
factor.
The other driver is high incomes. With their strong
economy and high average earnings, Albertans have
been confident consumers. That means most of them
haven't been too shy about shelling out major dollars
for those new ski jackets. Or earrings. Or silk ties. Or...
April 5, 2013
Dressed for success
0
100
200
300
400
500
600
Jan'04 Jan'06 Jan'08 Jan'10 Jan'12
Clothing
and
Accessories
Sales
in
Alberta
$
millions
(not
seasonally adjusted)
Source:
Statistics Canada,
CANSIM
table
080-­‐0020